Number 1. April 2016: The 1859 Auction Catalogue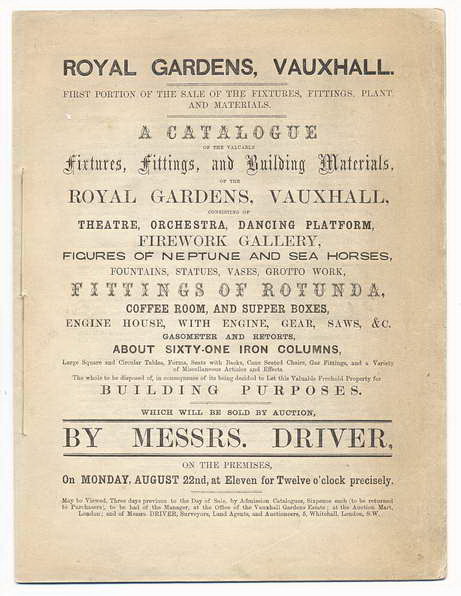 Figure 1: The cover of the 1859 auction catalogue.
The first object, the one that prompted the creation of this page, fulfils all three criteria. It is an important document which provides all sorts of evidence about many aspects of Vauxhall Gardens; it is also a very scarce item of ephemera - I know of only one other example, and that is in the collection of the University of California in the USA. But what marks this item out as truly special is the way it came to me.
One day at the end of March, as I was dealing with my emails, I opened one from a name I didn't recognise. The subject box had piqued my interest - it read "An historic item"; that 'An' told me this email should be taken seriously. The writer went on to say simply "I happen to have an 1859 auction catalogue from a sale of Vauxhall Gardens fittings etc. I can send it to you free of charge if you are interested." Even though I had never seen an actual copy, I knew about this catalogue, and how unusual and important it is, so my very interested reply dashed back to my generous correspondent; he confirmed the details, that the date of the sale was 22 August 1859, and that his catalogue consisted of 16 pages. He told me that his mother had bought the catalogue many years ago 'for a few pence', as a curio, and had kept it carefully ever since, so preserving this precious survival for the future. He himself wanted it to go somewhere where it could be used to further scholarship and research into Vauxhall Gardens and its period.
The catalogue itself [see page 355 in 'Vauxhall Gardens - a History'] arrived in the post a few days later - an absolutely pristine copy, admittedly slightly browned and very delicate, but in totally original condition, as published in 1859. Printed simply as a sale catalogue and sold for just sixpence at the time, there was no need then for it to be printed on high-quality paper or bound in an expensive binding - it only had to last for a week or two, and then it would be thrown away, which is precisely why it is now so unusual. Despite its limited life and purpose, it has a very eye-catching cover, printed in several different typefaces and sizes, very much in the tradition of earlier handbills advertising the attractions of Vauxhall Gardens when they were still running.
The 'Last Night forever' of Vauxhall Gardens took place on 25 July 1859, and the demolition teams moved in on the very next day, to make things ready for two clearance sales by Messrs. Samuel and Robert C. Driver, the auctioneers who produced this catalogue. The first sale of 'Fixtures Fittings and Building Materials' was on 22 August, and the second one week later. This catalogue enumerates the 274 lots of the first sale, which, we know from other sources, raised just £800.
The catalogue's cover tells prospective buyers exactly what to expect in the sale - the 'Fixtures, Fittings and Building Materials of the Royal Gardens, Vauxhall' consisted of the 'Theatre, Orchestra, Dancing Platform, Firework Gallery, Figures of Neptune and Sea Horses, Fountains, Statues, Vases, Grotto Work, Fittings of Rotunda, Coffee Room, and Supper Boxes, Engine House, with Engine, Gear, Saws, &c. Gasometer and Retorts, About Sixty-One Iron Columns, Large Square and Circular Tables, Forms, Seats with Backs, Cane-Seated Chairs, Gas Fittings, and a Variety of Miscellaneous Items and Effects.'
The catalogue begins straightforwardly enough with sixty-six 'stout painted deal tables', but, near the Orchestra were ten 'painted deal lockers' and eighteen music stands, which suggest the relative numbers of musicians employed. Unsurprisingly, plenty of light-fittings, both indoor and outdoor, are detailed. Lots 51-53 are three painted deal tables with turned legs, apparently 'the original tables made for the Gardens in 1754'. This is the only evidence we have for a renewal of the tables in 1754. These three were sold for the relatively high price of nine shillings each. Lots 64 to 71 were to be viewed in the 'Grape Room'; again, this is a unique piece of evidence for the existence of a 'Grape Room' in the Gardens. Three huge seascapes by the brothers Joseph, Frederick and Alfred Adams formed the three sides of this room, which measured 20 by 15 feet. Many of the remaining paintings at Vauxhall were bought at this sale by Edward Tyrell Smith for the Banqueting Hall of his pleasure gardens at Cremorne in Chelsea, which outlived Vauxhall by two decades.
The Chinese Room, where lots 72-80 were to be viewed, appears to have been transferred wholesale, with all its paintings, panelling, lanterns, dragons and furniture to Vauxhall from Gore House in Kensington; Gore House had been set up in 1851 by Alexis Soyer as a 'Gigantic Dining Encampment of All Nations', basically a restaurant cashing in on the success of the nearby Crystal Palace. Lots 102 to 117 are all paintings and scenery, some by Nicholls, some by Cox, but at lot 112, we find 'Scenery to Hermitage and Hermit.' This is one of the very few mentions of this attraction, situated in a distant corner of the gardens, where Vauxhall's visitors would go to have their fortunes told. Sometimes the 'Hermit' was a real person, but clearly he could be replaced by a dummy when necessary.
But the highlight of this catalogue comes at lot 125, 'The entire erection of the elegant Circular Orchestra (to ground level only), with minarets, leaded cupola roof, and gallery, American, Stout and Oyster Bars, with the fittings, shelves, and 2 beer-engines and pipes, metal top counter, stairs, frontispiece, and pipes, and machinery of organ, bellows, &c. 2 figures on pedestals supporting shell sounding-board, 4 looking-glass panels, &c. &c.' This is the only published verbal description of the Vauxhall Orchestra anywhere. Although the Orchestra was, by this time, clearly used for more than just musical performances, it is very useful to be able to confirm the previous assumption that the domed roof was, in fact, leaded, and that the two female caryatids supporting the sounding-board, added in around 1845, were still in place when the gardens closed. The Orchestra, which had survived since 1758, and where Joseph Haydn had seen his own music performed to great acclaim in 1792, was knocked down to a buyer at this sale for just £99, but we have no idea who bought it, or what they did with it.
Two lots later is the 'handsome and admirably executed group of Neptune and Sea Horses, with steam, water and gas pipes, and fittings.' The Neptune Fountain, installed at the far end of the Grand Walk in 1838, is known to have been spectacular, but the mention of 'steam, water and gas pipes' suggests that it may have been even more impressive than we thought, and that it was able to spout not just water, but also steam, and maybe even flames as well. Vauxhall Gardens was famous for its special effects, but, at the beginning of Queen Victoria's reign, the spectacle of a huge sculptural group of Neptune in his chariot drawn by rearing horses which were spouting water, steam and fire must have been thrilling. There is no indication, in this catalogue or elsewhere, of the material from which this group was made; as it survived outside for at least two decades, and was still in saleable condition, it must have been a durable material, maybe even Coade stone, from Mrs Coade's factory nearby in Lambeth. If so, this group may still survive somewhere today - has anybody seen it?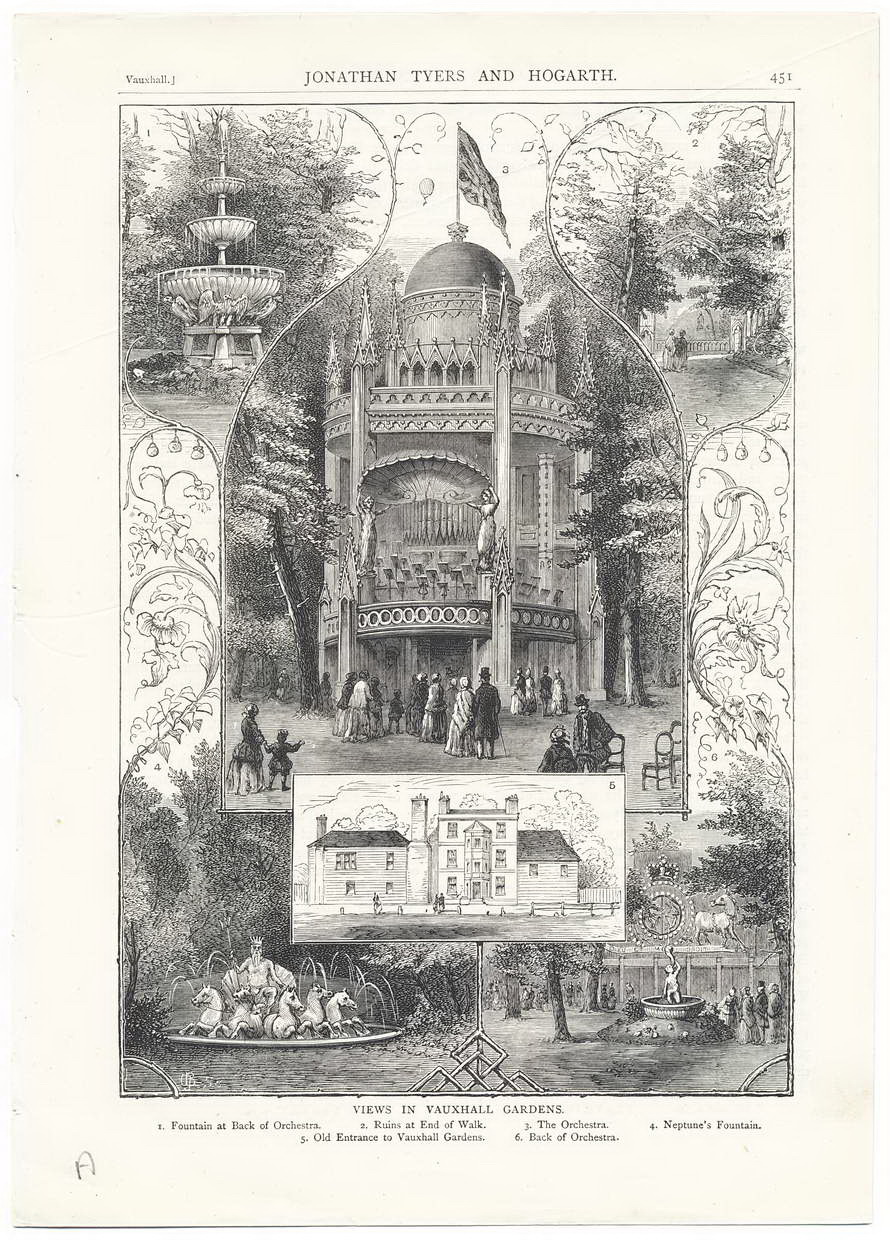 Figure 2: A Composite view of Vauxhall Gardens as it was in the 1850s, showing the Orchestra with its leaded cupola and caryatids; and (lower left) the Neptune Fountain. From Edward Walford's 'Old and New London' published 1873-78.
Most of the other lots are what we might expect; one little mystery, though, at lot 254, is 'A Deane & Dray's wrought and cast iron hot closet, in two compartments, 6 feet square' which was shown in the Rotunda. The food at Vauxhall was all served cold - cold meats, salads, pastries etc. There was hot tea and coffee, but this was served from large boilers (also included in the sale). So why would Vauxhall need such a huge 'hot closet'? A question for which I have as yet no answer.
That, though, is part of the charm of this sort of ephemera. It is bound to raise more questions than it answers, and, in any case, we will never be able to (or want to) answer all the mysteries. One thing this catalogue does do is to show that there was a real market for all the old fixtures and fittings, probably largely amongst those people who had been regular visitors to the pleasure garden, and who wanted something to remind them of the gardens after they had disappeared. Londoners felt very nostalgic for the place where, in some cases, they had first met their first love, or, in their younger days, marvelled at some of the spectacular displays. Many of those who had seen Madame Saqui, the Parisian rope-dancer, descend from 60 feet among exploding fireworks, or the 'Lion King' Isaac van Amburgh making his wild beasts do tricks, or Robert Cocking ascending with Charles Green's huge Nassau Balloon on his ill-fated parachuting attempt in 1837, were still alive in 1859, and would have been potential buyers at this sale. Maybe their descendants have inherited 'Four wire-work floral basket chandeliers' (lot 44), or an 'equestrian picture of the Emperor and Empress of France at a Hunting Party, 12 ft square (lot 119), or 'a Statue of Eve' (lot 129) or 'ditto of Bacchus' (lot 130), or just a painted deal table with turned legs, without knowing anything about what they are or where they came from.
[If you would like to comment on this article, please contact me]