The Objects of the Month for September and October were overtaken by our recent house-move and change of server. Things are now slowly returning to normal, so here is November's 'Object'.
The dinner plate of August's article may have seemed a little empty without any of the food that would have been served on it or eaten from it. This month's object, an original Vauxhall bill of fare dating from 1823 (fig.1), will help to fill that gap.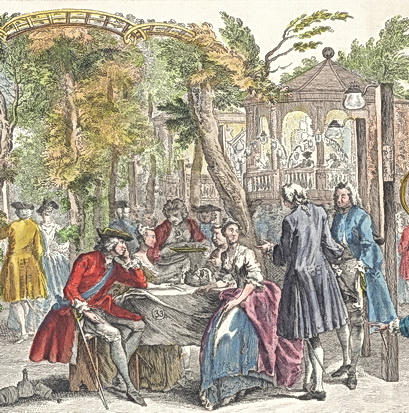 fig. 2: Spring-Gardens, Vaux-Hall by M. Ramano (1741)
The bill of fare lists the full range of food and drink that was available to visitors at the time, and the price charged for each item. From its content, it is clear that it was intended to be seen by Vauxhall's visitors, as well as being used by waiters to list visitors's; requirements for the evening; it would have acted as the bill for payment as well. It was their intended locations which, to a great extent, dictated this format of Vauxhall's menus – narrow and long, so as to fit easily on the side of the tall squared lamp-posts. This practice can be seen in some of the earliest prints of Vauxhall Gardens 'Spring-Gardens, Vaux Hall'; (1741), for example, a satirical print signed by 'M. Ramano' (fig.2), shows, at the extreme right side of this detail, a menu on a lamp-post; in this print, it is used to satirise Tyers's profligate use of lamp-oil at twelve shillings a quart – just as bad as his visitors who gorge on hugely expensive foodstuffs provided by Tyers's kitchens.
This particular 1823 bill of fare is unusual in that it includes several additional pieces of information intended specifically for members of the public to read. It is also unusual because the printed date, the headline year 1823 (the year after Vauxhall Gardens was re-christened as the Royal Gardens, Vauxhall), has been scratched out, along with the line to be filled in with that day's date. Maybe this sheet was used as a pattern for the following year's menu at the printers', which might explain why such a fragile and ephemeral item has survived at all.
Before looking at the sheet in more depth, it would make sense to transcribe it in full, so as to make its content clear at the start.
V A U X H A L L
R o y a l G a r d e n s,
1 8 2 3.
Box No .......................................... Waiter's
Name
Day Of 1823
_________________________________________
The Company are respectfully acquainted that the Waiters are ordered
not to charge in their Bill any Article they may place on the
Table that shall remain untouched.
If any Person experiences inattention or incivility from the Waiters, it
is hoped application will be made at the Bar, that he may be
reprimanded, or, if requisite, dismissed.
___
REFRESHMENTS

A Chicken

4s.

0d.

A pulled Chicken

5

0

Dish of Ham

2

0

Plate of Ham

1

0

Dish of Beef

2

0

Plate of Beef

1

6

Plate of Collared Beef

1

6

Dish of Potted Meat

1

6

Cheesecake

0

6

Custard

0

6

Heart Cake

0

4

Shrewsbury Cake

0

2

Biscuit

0

1

Jelly

0

9

Plate of Olives

1

0

Plate of Sugar

0

6

Lemon

0

6

Lettuce

0

6

Cucumber

0

6

Cruet of Oil

0

6

Egg

0

2

Slice of Cheese

0

3

Pat of Butter

0

2

Slice of Bread

0

1

Pot of Stout

0

10

Pair of Wax Lights

2

0

The Pastry and Confectionary are furnished by Mr FARRANCE.

WINES

Port

6

0

Sherry

6

0

Bucellas

6

0

Lisbon

6

0

Vidonia

6

0

Madeira

8

0

Claret

10

6

Sauterne

10

6

Barsac

10

6

Frontignac

10

6

Champagne, White

14

0

Champagne Red

14

0

Old Hock

14

0

Moselle

12

0

Burgundy

15

0

Arrack, per Quart

12

0

Ditto, per Pint

6

0

Ditto, per Half Pint

3

0

£ ___________________
__________________________________________
The Proprietors respectfully request the Company will see that every Bottle of
Wine, brought by the Waiters, has the Seal of THE LONDON WINE COMPANY;
The Bar being answerable for the quality, if the Bottles are sealed as above; but
the Proprietors cannot answer for the conduct of the Waiters; the Company
ought, therefore, to examine the Seal, and see the Wine decanted in their presence.
** All the wines have been furnished by the London Wine Company, 141, Fleet Street.
The thing that strikes us most forcibly about this document is the proprietors' obvious mistrust of their waiters, so much so indeed, that they have to alert their visitors to their possibly fraudulent practices and rudeness. Why was it necessary for the proprietors to warn their customers to look out for, and report "inattention or incivility from the Waiters", or over-charging, or adulterating the wines? Vauxhall's waiters were self-employed, and apparently made their income only from tips. They had to buy the food and wine themselves, at the Bar, at a fixed price, then they would charge that price on to their customers; to avoid fraudulent practices, this price was well-known to their clients, because bills of fare like the present example were pinned up on lamp-posts and trees all around Vauxhall's central Grove, and even in the supper-boxes. It is therefore not surprising that waiters should have constantly attempted to over-charge. There must have been many occasions when a strict adherence to the rules (and to the price-lists) was not fully observed. Preserved in the Lambeth Archives is a poster, probably dating from the 1840s, which was also pinned up in the gardens; it announces
Visitors are earnestly requested not to pay for
any kind of Refreshment without being furnished
with a Printed List, with the prices attached.
In case of any Imposition being attempted by
the Waiters, Visitors will confer a favour on the
Proprietors by making COMPLAINT AT THE BAR.
The proverbial dishonesty of waiters was an on-going and frustrating problem for the proprietors and their visitors. Even in Jonathan Tyers's time, when waiters took fewer liberties, things were not always well. A satirical pamphlet of 1742, written in biblical parody, says that both the wines and the waiters at Vauxhall were 'an abomination'. The pamphlet illustrates an episode at Vauxhall in which the narrator pays the waiter for his food and drink, but the man is not satisfied, and still demands his tip:
41. Then pulled I out three Pieces of Silver, and I gave them unto Him, albeit He looked displeased at me, as who shou'd say, Pay me that thou owest me.
42. Have I not been thy Slave and thine Ass these five Minutes? Have I not served thee faithfully? according to the Thing thou gavest me to do, even so did I.
43. Moreover have I any Wages save what thou givest me? Wherefore then dost Thou with-hold from me that which is my due, and givest me not Six-pence? So I gave him Six-pence.
44. But after this He neither bowed, nor made any Obeisance unto me, and I repented of what I had done.
This piece appears to confirm that the waiters' only income was from tips. It also makes clear that at least some of them were capable of zealously standing up for their rights. One good reason for this is that the 'bilking' of waiters was seen by certain sections of Vauxhall's clientele as a great game. A young buck, bringing a party of friends for the evening would boast of getting away without paying for their notoriously expensive meal, leaving their unfortunate waiter significantly out of pocket, since he had already had to pay for the whole meal at the bar. As most of those doing the bilking were of a high social status, it would have been impossible for a working waiter to obtain proper redress, so tips given by generous customers were his only reserves. Just occasionally, waiters could profit from special events when many thousands of visitors were trying to obtain refreshments, and some of Vauxhall's wealthier visitors were prepared to pay over the odds for a waiter who might favour them over the rest of the crowd.
Returning to the additional texts on our Bill of Fare, in particular the final line, we know that The London Wine Company mentioned there was one of the businesses owned by the proprietors of Vauxhall Gardens at that time, Thomas Bish and Frederick Gye; it was one of two companies (one selling wine and the other selling tea) set up by them on the strength of a serendipitous Lottery win; the partnership made a success of both ventures, and their profits allowed them to purchase and run Vauxhall Gardens for more than a decade, finally putting an end to the Tyers family's proprietorship. Farrance the pastrycook, also mentioned on the menu, was an independent family business, one of the most respected food producers in the City of London. Thomas Farrance was presumably supplying items which could not be made in the Vauxhall kitchens.
Some of the items of refreshment on our Bill of Fare do require a little explanation for the modern reader. 'Collared Beef', for instance, was a preserved meat similar to modern pastrami. Amongst the sweets and puddings are Heart Cake and Shrewsbury Cake; a recipe for heart cake does not appear to survive, but it may just be a cake (or biscuit) in the shape of a heart, possibly iced. Shrewsbury Cake is a spicy shortcake biscuit, sometimes with added dried fruit. Amongst the wines are Vidonia, a dry Canary wine from Tenerife or Madeira; Barsac is a Sauterne-like wine, but lighter and drier; Frontignac is a sweet, aromatic white muscat desert wine, which was much favoured by the native American Cherokee group when they visited Vauxhall in 1762. The other item which may be unfamiliar to modern eyes is 'Arrack'. Vauxhall was famous for its Arrack (or 'Rack') punch, which even features in Thackeray's Vanity Fair, when it made Jos Sedley so hopelessly drunk that he had to postpone his proposal to Becky Sharpe. At this distance of time it is impossible to be absolutely certain of the recipe for this notorious liquor. It appears to have been based on a spirit distilled from the fermented juice of dates or coconut flowers, similar to Jamaica rum. Vauxhall's 'Arrack punch' was probably mixed with fruit juices, sugar, spices and water, making it dangerously palatable, ensuring that it was consumed in vast quantities.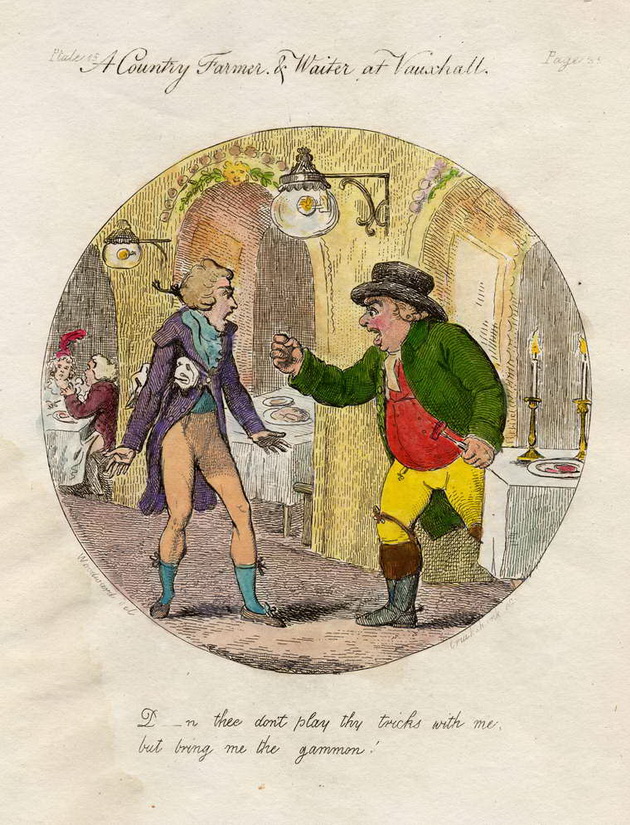 fig. 3: A Country Farmer & Waiter at Vauxhall, Isaac Cruikshank after G M Woodward (1796)
The food at Vauxhall Gardens, expensive as it was, became one of the great 'in-jokes' among fashionable society. The joke being that you received so little food for so much money, and the shock that this provoked in first-time visitors, to the great amusement of the old hands; this joke is well illustrated in Isaac Cruikshank's engraving after G.M. Woodward, of 'A Country Farmer & Waiter at Vauxhall'; of 1796 (fig 3). The farmer has ordered ham, fully expecting roast gammon with all the trimmings, so when he is presented by the waiter with a plate holding an ounce of the thinnest cold parma ham, he understandably believes that the waiter is cheating him. This scene was played out often at the gardens, with regulars, like the fashionable couple in the left background, seeing it as just another part of the entertainments.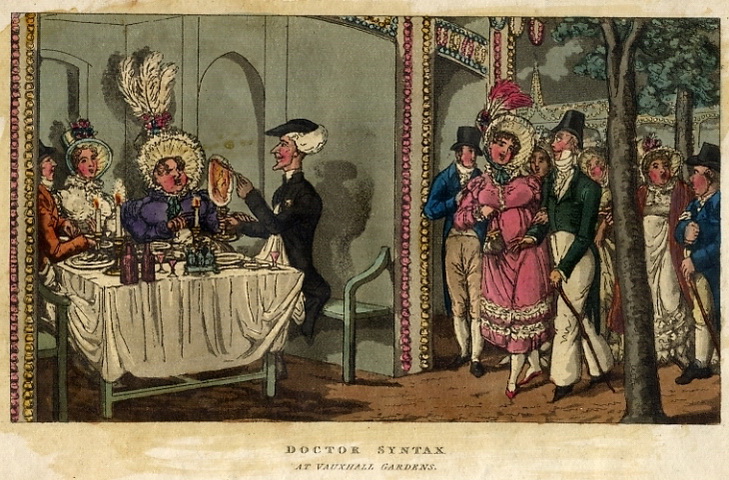 fig. 4: Dr Syntax at Vauxhall Gardens
The menu at Vauxhall Gardens certainly included the very traditional dishes of roast ham, beef and chicken, but the food was all served cold, so that it could be prepared during the day before the public arrived towards dusk, and was all pared down to an absolute minimum. One journalist of 1762 complained that it was possible to 'read the newspaper through a slice of Tyers's ham or beef'. Jonathan Tyers is rumoured to have agreed to employ one particular cook because, when interviewed, he had sworn that, given the right tools, and just one ham, he could slice it so thinly that he could cover all the broad avenues around the whole eleven acres of the gardens with the slices, 'like a carpet of red and white'. Many writers commented on the parsimonious nature of the helpings at Vauxhall, culminating in Thackeray's poetic allusion in Vanity Fair, to 'The twinkling [supper-]boxes in which the happy feasters made believe to eat slices of almost invisible ham.' The focus of the illustration of Doctor Syntax at Vauxhall Gardens (1817) (fig.4), is the slice of wafer-thin ham held up by the Doctor in front of a candle, demonstrating to his companion just how transparent it is. Unusually, this engraving also shows some of the table-dressing enjoyed by visitors, including cruet-sets, small wine bottles, plates, cutlery, glasses, candlesticks, and linen.
A journalist picked up the joke when he told the story of a country family visiting Vauxhall for the first time, in 1755; he apparently overheard their conversation and reported part of it as follows:
"Come, come, (said the old don) it is high time, I think, to go to supper." To this the ladies readily assented; and one of the misses said, "Do let us have a chick, papa." "Zounds (said the father) they are half a crown a piece, and no bigger than a sparrow." Here the old lady took him up - "You are so stingy, Mr Rose, there is no bearing you. When one is out upon a party of pleasure, I love to appear like somebody; and what signifies a few shillings once and away, when a body is about it." This reproof so effectually silenced the old gentleman, that the youngest miss had the courage to put in a word for some ham likewise: Accordingly the waiter was called, and dispatched by the old lady with an order for a chicken and a plate of ham. When it was brought our honest cit twirled the dish about three or four times, and surveyed it with a very settled countenance; then taking up the slice of ham, and dangling it to and fro on the end of his fork, asked the waiter, "how much there was of it?" "A shilling's worth, sir," said the fellow, "–Prithee, said the don, how much dost think it weighs? –An ounce? – A shilling an ounce! that is sixteen shillings per pound! – A reasonable profit truly! –Let me see – suppose now the whole ham weighs thirty pounds: – at a shilling per ounce, that is sixteen shillings per pound, why your master makes exactly 24 pounds of every ham; and if he buys them at the best hand, and salts them and cures them himself, they don't stand him in ten shillings a piece." [Gentleman's Magazine XXV, May 1755, pp.206-208, reprinted from the Connoisseur, no.68, May 1755]
The food served at Vauxhall was inescapably English; indeed, suppers there were almost a celebration of English food, if a light-hearted one. Even the waiters at Vauxhall were allowed, or possibly encouraged, to join in the joke. In her memoirs, Laetitia-Matilda Hawkins recalled her father being highly entertained by a waiter miming the actions of saving a plate of meat from blowing away on the gentlest of evening breezes. Vauxhall ham, once called 'sliced cobwebs', eventually became proverbial. At homes all over London, if a guest wanted only a small portion of meat, they would ask for it to be carved 'Vauxhally', and if somebody noticed their shoe-sole was wearing into holes, it would be described as 'Vauxhallian'.
Everything at Vauxhall, the art, the design, the architecture, and the music and song, were proudly English, and the food was no exception. Cold meats and salad, with bread, butter and cheese, was followed by pastries, cheesecakes and biscuits, all washed down with plenty of wine, port, beer or cider. No foreign influences were allowed to alter this invariable choice, which remained constant, with only minor variations from the 1730s until the 1850s. Needless to say, even though the menu changed hardly at all, the prices saw a significant inflation between 1762, the date of the earliest bill of fare to survive, and 1823, the date of our 19th century example. The average price doubled in that 60 year period, although for items like bread, cheese and butter the price did not change at all. The 1762 bill of fare is transcribed on page 50 of the anonymous booklet called 'A Description of Vaux Hall Gardens', published by S. Hooper:
| | | |
| --- | --- | --- |
| | s | d |
| Burgundy a bottle | 6 | 0 |
| Champagne | 8 | 0 |
| Frontiniac | 6 | 0 |
| Claret | 5 | 0 |
| Old hock with or without sugar | 5 | 0 |
| Two pounds of ice | 0 | 6 |
| Rhenish and sugar | 2 | 6 |
| Mountain | 2 | 6 |
| Red Port | 2 | 0 |
| Sherry | 2 | 0 |
| Cyder | 1 | 0 |
| Table beer, a quart mug | 0 | 4 |
| A chicken | 2 | 6 |
| A Dish of ham | 1 | 0 |
| A Dish of beef | 1 | 0 |
| Salad | 0 | 6 |
| A Cruet of oil | 0 | 4 |
| Orange or lemon | 0 | 3 |
| Sugar for a bottle | 0 | 6 |
| Ditto for a pint | 0 | 3 |
| A slice of bread | 0 | 1 |
| Ditto of butter | 0 | 2 |
| Ditto of cheese | 0 | 2 |
| A tart | 1 | 0 |
| A custard | 0 | 4 |
| A cheesecake | 0 | 4 |
| A Heart cake | 0 | 2 |
| A Shrewsbury cake | 0 | 2 |
| A quart of arrack | 8 | 0 |
For Jonathan Tyers, the food and refreshments fulfilled several purely pragmatic roles in his pleasure garden business. They helped to keep visitors on site, who might otherwise go elsewhere for supper, and, as public feasting has always done, they encouraged a polite sociability between people. But the great purpose of the ridiculously expensive food and wine was to produce a huge commercial profit for the proprietor. An ounce of ham or beef cost a shilling, and cold roast chickens, which were, in fact more like poussins, with some guests likening them to sparrows, cost two shillings and sixpence each; this would be the equivalent today of charging £40-50 for just one little chicken, a price that horrified newcomers, and provided constant entertainment for the old hands.
Considering its paucity and outrageously high cost, it is odd to find several well-known and well respected people actually praising Vauxhall's refreshments. Both Sir John Fielding and Dr Johnson were happy with what they found, and even the worldly Giacomo Casanova, on his first visit in 1765, praises the food. The reason for this is astutely grasped by Samuel Richardson, who, in a sample letter from a young lady in town to her aunt in the country, describes a visit to Vauxhall where the young lady's uncle treated his party to supper very cheerfully; but the niece says that 'I could not help grudging the expence he was at; for when the reckoning was paid, it amounted to no less than ten shillings a head . . . But as the whole is devoted to pleasure, the expence seems rather to create satisfaction, than distaste, as it gives an opportunity to gallant people to oblige those they love, or pretend to love, in order, most of them, to pay themselves again with large interest.' This last phrase conjures up the age-old association between food and sex which, of course, was always apparent in the Vauxhall supper-boxes.
So Tyers's refreshments, whilst they certainly supported his business in various ways, also benefited his visitors, not only internally, but also by allowing them to put others under an obligation to return their hospitality, or else to be equally generous in other ways. It must be rare to find so many practical uses for such scanty fare. But probably the most extraordinary aspect of Vauxhall's suppers is that they were served to so many people every evening throughout the summer season. Five hundred guests were regularly served, but every season Vauxhall mounted special events which attracted huge numbers of people, and it was not unusual to find seven thousand visitors being served with food and drink on a single evening. The sheer practicalities and statistics behind this are awe-inspiring; on the occasion of the opening night for the 1753 season, with attendance figures of almost five thousand, even the highly experienced catering staff were stretched to breaking point. The voracious appetite of Vauxhall's clientèle seemed almost diabolical: 'the prodigious quantity of Beef & Custard that were dispatched by a kind of Witchcraft instantaneously to the lower regions seemed not only a sufficiency for all the Company but was the whole provision for the Week.' And on the occasion of a Masquerade on 20 July 1812, by which time Tyers's abstemiousness had been replaced by a more generous kitchen, the caterers provided 150 dozen chickens, 150 dishes of lamb, 200 tongues and hams (ornamented), 300 lobsters, 100 raised pies, 200 savoury cakes, 250 dishes of pastry, 300 jellies, 400 quarts of ice cream, 500 pottles of strawberries, and vast amounts of other fruits. It is easy to see how unscrupulous waiters could take every advantage of this kind of occasion.
Jonathan Tyers, with no training in the field, and no comparable organisation from which to learn the basics, had to teach himself the art of mass catering, and the business considerations that it entailed. Although nobody went to Vauxhall purely for the supper, the fact that, despite obvious difficulties with his staff of waiters, he succeeded to such an extent that discerning people found no obvious fault is truly remarkable, and is one of Tyers's great unrecognised achievements, one that would not be easy to replicate even today.